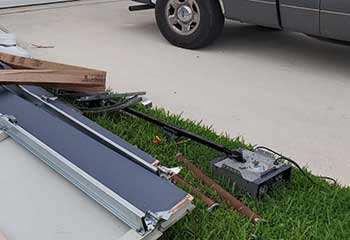 Panel Replacement
Customer Issue: Mrs. Ada called about a garage door panel that abruptly fractured. A production defect seems to be responsible, so the replacement was under warranty from the manufacturer.
Our Solution: As soon as the replacement garage door panel arrived, we made a date with the customer and brought it over. We raised the door off its tracks, removed the offending panel, and fastened in the new one's screws and hinges. When we replaced the garage door on its tracks, it opened and closed smoothly with no signs of panel stress.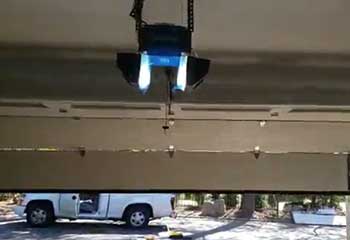 Garage Door Opener Repair
Customer Issue: Mr. Shaer's garage door opener got stuck somehow, and his door could neither open nor close. With his garage door stuck halfway open, he knew he needed help.
Our Solution: We started with the door mechanism itself and moved backward through the spring assembly and drive until we found the problem. The drive belt somehow got twisted around and was caught around its spool inside the garage door opener. We removed and straightened the belt, which was fortunately undamaged by the incident, and reinstalled it in the opener. The garage door worked fine afterward.