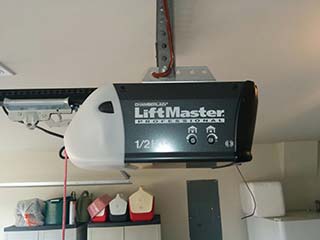 As far as openers go, LiftMaster offers some of the best products out there. Their smart garage door openers with Wi-Fi remote features and sensors let you optimize your system to work to your convenience. LiftMaster garage door openers give you all sorts of options to make your garage more secure and functional. You can also monitor and control the opener via the internet, letting you open or check on the garage door whenever, wherever. Of course, naturally, some problems can still crop up even with quality brand name garage door openers by LiftMaster. Troubleshooting the issues and repairing broken opener chains, gears, torn belts and more is our technician's specialty. For quick LiftMaster garage door opener repairs near the White Plains area, you've got local professionals to call on. And with same-day solutions provided all week long, you always have recourse when something goes wrong.
Opener Chain Broke
With the classic chain drive garage door opener, you get a very reliable system. The strength of chain drive openers makes them great at lifting heavy garage doors while costing a lower price than some of their counterparts. With some lubrication maintenance for the chain, LiftMaster openers with this drive system can last for a long time. However, an opener with a broken chain will not work like it's supposed to. Our LiftMaster garage door opener repairmen in White Plains can replace broken chains and adjust them to fit the weight of the door. The chain mustn't become too slack so it will work correctly and open the garage door without much noise or effort.
Quiet Belt Drive Opener – Torn Belts
Favored for its super quiet operation, LiftMaster belt drive garage door openers give you a great choice for attached garages. The minimal noise output makes these belt drive openers silent and quick, at a slightly higher but still affordable price range. When an opener belt tears, however, the machine won't have the ability to pull the garage door up. Not to worry, of course, as our belt drive opener repair services will see the problem solved very fast.
Wall Mounted Openers
A great option for garages with small backroom clearance, wall-mounted LiftMaster garage door openers provide fantastic solutions. They utilize the torsion spring to lift the door, requiring a smaller drive system and therefore take up far less space inside your White Plains garage. Doors that utilize wall-mounted openers can experience faults with the spring or the motor still. Of course, here you also can get help from our local LiftMaster garage door opener specialists to see such issues fixed without delay.
Troubleshooting Garage Door Openers
All sorts of problems can affect the performance of these machines. Misaligned opener sensors can make the garage door reverse when it should close properly. Sometimes worn motor gears can make the opener run but not open the door. With expert LiftMaster garage door opener troubleshooting experience, our local technicians provide immediate solutions to all nearby areas. Remember that mishandling these machines can lead to more complex problems. So if you're unsure as to what's causing the problem, leave it to our skilled repairmen.
White Plains LiftMaster Garage Door Opener Repair Services
Providing quick assistance to all surrounding areas, our experts help customers with all opener problems, big or small. We replace broken gears, trolleys, and even logic boards, ensuring your machine works with no issues once again. When you need repairs for LiftMaster garage door openers, you've got professionals in your area you can turn to. Call Garage Door Repair White Plains for opener troubleshooting or replacement services and get affordable solutions in the shortest time.