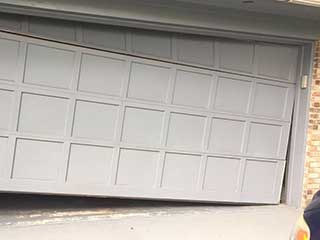 Unexpected problems can't wait for a solution, and with garage doors, some issues can create a major obstacle. A schedule can get a whole lot tighter when your garage door spring breaks all of a sudden just as you're about to take the car out. Other times it won't be the spring but the opener, not working suddenly because of whatever vindictive cosmic fate. Whatever the case, our emergency garage door repair services in White Plains offer fast solutions for all such problems. You can get any issue solved right away, salvaging your day and saving you a major headache.
My Garage Door Got Off Track – Help!
Not too uncommon, a problem like this often result from a garage door roller popping out of the track. This creates a situation in which the panels get stuck in place when the door is about halfway off the ground or even less. That means you, or at least your car, become trapped inside or outside the garage. With a quick phone call, we can have a local White Plains garage door repairman at your residence with the necessary tools (and experience) to fix the problem on the spot. Remember that garage doors are heavy, and you should avoid tampering with the system if you lack the knowledge and expertise.
Same Day Broken Spring Replacement
Maybe the most common problem we get called for, broken garage door springs create a major fowl up for your day. Without the spring, the door has a very hard time lifting. And even if you can open a garage door with a broken spring, probably not a good idea to try. You only cause more damage to the supporting systems (opener drive mechanism, lift cables, etc), and that can lead to more expensive repairs. However, replacing a broken garage door spring is something our technicians near White Plains can do very fast. You can get a new spring installed any day of the week, and on weekends too!
Fastest Repairs For Your White Plains Garage Door
Trouble loves to strike when you least expect it. Therefore, it's a good thing you've got local garage door repairmen close to White Plains who can help with any problems on that same day. We offer customers complete satisfaction when it comes to repairs and garage door part replacement. Whenever you need help, you can call us for urgent assistance and affordable solutions applied fast.