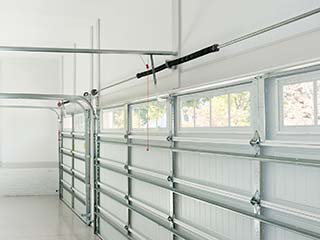 The springs in your door do all the heavy lifting. These heavy-duty torsion or extension springs are responsible for taking the load whenever your door opens or closes, and without them, your door will become unable to move. They're tough and built to last, but they will wear out and fail with time - when this happens, it's essential to have them replaced quickly by a professional.
Broken Garage Door Spring Repair Services
It's important, when dealing with broken springs on the garage door, to let an experienced repair technician handle the job. You see, garage door springs operate with a significant amount of tension. When installed incorrectly, they can break prematurely, or fail to support and counterbalance the weight of the garage door. Springs need careful tending to when they break. You can seriously get injured when mishandling these parts. For quick broken garage door spring replacement in the White Plains area, you've got experts nearby who can help on any given day. Our professionals help customers deal with garage door spring problems involving tension adjustment as well as a complete replacement. You can get an affordable solution that will last for years to come.
Why Do Springs Fail?
Springs can break for any number of reasons, but the most common problem is sheer wear and tear. With a typical door utilized more than a thousand times per year, these springs are being worked very hard. As they stretch and compress time and time again they gradually lose strength and need to be replaced.
What Signs Should I Watch For?
As a spring begins to lose strength, it will often give out warning signs. If you find that your door is making a lot of noise as it moves, if the door moves jerkily, or if it can't support its own weight, your springs might well be in need of professional attention.
What Should I Do Next?
A garage door spring that's failing can be very dangerous. If the spring breaks entirely it can suddenly drop the door and can even whip loose. Because of this, we strongly recommend that homeowners don't try and handle the springs themselves - our professionals are always ready to safely handle this process.
Identifying and Inspecting
Our trained technicians have a great deal of experience working with door springs, and can identify when one needs to be replaced. When inspecting your system our team will take into account the condition of every component, and will suggest whether your springs should be replaced or not. We stock and install a wide variety of top-quality springs, all of which benefit from modern corrosion resistance and durability.
Arrange an Appointment
It's essential to deal with spring problems as quickly as possible - contact our experts at Garage Door Repair White Plains with your issue and our service team will arrange an appointment with you.
Help From Garage Door Spring Repairmen Near White Plains
Speed becomes a huge factor when dealing with broken springs on garage doors. Why? Because the setup now is lacking one of the most important components – the muscles. Broken garage door springs can't help the door lift like they need to. That means more strain on the opener drive system and lift cables. That's not a good thing, as it will create more wear and tear very fast. To avoid getting stuck outside the garage when the door springs break, get help from our local experts. We provide fast and cheap garage door spring repair services to anywhere close to White Plains. When faced with such a problem, know you've got local help available all week long. And solutions come cheap and durable, so no huge expenses on your part. Call for garage door spring repair services and get a quick response Sunday through Saturday.
You can also count on us for:
Emergency Broken Spring Replacement
Genie & Liftmaster Opener Repairs
Garage Door Safety Inspections
Broken Garage Door Track Repair