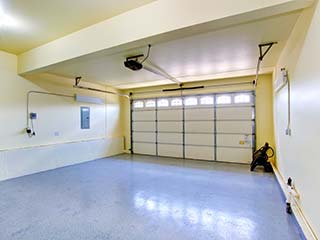 Your garage door doesn't become automated by itself. The device responsible for that improvement of your daily convenience is called the opener. It does more than that, in fact. It can also boost up the security of your home, and improve the user safety of your door. However, when something goes wrong with this unit, these qualities will take a veritable nosedive, and the system may not be safe to use until everything is fixed.
Common Problems With Garage Door Openers
All manner of issues can cause the opener of your automatic garage door to stop working the way it's meant to. A broken motor drive gear in the opener will render the machine powerless essentially. The opener produces horsepower via its motor. When the gear wears out or breaks, it's no longer able to do so. A broken opener chain or a torn belt will make it go slack. The opener needs a chain or belt drive system to pull the door, so when this part gets disconnected, it can't do that. Our White Plains garage door opener repairmen specialize in troubleshooting LiftMaster, Sears, Genie, and other opener brands. When you need help quickly, at affordable service rates, our professionals will get to you ASAP to provide it.
The Three Options
There is quite a large variety of different opener models you can choose to buy, but all of them belong to one of three types. Each type has its own distinct advantages and downsides. Chain-drive models are strong and usually very affordable, but they are quite noisy, and require more maintenance than some homeowners may like. Belt-drive units operate in a similar way, but they are virtually silent. They're also more expensive, though. Screw-drive based units require very little maintenance, and are also oftentimes the fastest of the three. However, although they're not as noisy as the chain-drive units, they aren't exactly quiet.
A Few Common Issues
Regardless of which opener you have, some problems can be unavoidable. Motor gears can wear out or break, circuit boards can malfunction or get fried, and various other mechanical or electrical problems can simply manifest unexpectedly. Our company specializes in garage door opener repair, and our technicians can take care of all of these issues, and then some.
The "Eyes" of The World
Perhaps the most important components of your entire garage door system are the photo-electric eyes that are installed on each side of the opening of your garage, by the lower part of the vertical tracks. These components are in charge of detecting an obstacle standing in the door's path and alerting the opener's logic board to keep the door from closing. If they become misaligned, they will to serve their prupose, and your safety will be compromised. Safety sensor realignment requires an expert's touch, as these components are quite delicate. Our technician, of course, can help you out with that.
Don't Hesitate. Act
If you're in need of some type of opener repair or replacement, contact our team at Garage Door Repair White Plains and our technicians will quickly come to your aid.
Troubleshooting a White Plains Garage Door Opener Malfunction
Sometimes it can take a little time to figure out why the garage door opener isn't working. You see, this unit works with mechanical hardware parts that move around and suffer from wear and tear. But it also has electrical components that can fry, detach, or suffer from various technical issues. Therefore, opener troubleshooting for White Plains garage doors or systems in any other area requires a good understanding and experience to handle quickly. With garage door opener repairs, you've got local technicians that can troubleshoot the problem fast and apply a solution on the spot. From replacing broken chains and gears in the motor to reprogramming opener remotes and replacing logic boards. Leave it all to our expert garage door opener repairmen and have the problems fixed fast at the most affordable rates around.
But wait, there's more! We also offer:
Part Replacement & Repair
Track Replacement & Repair
Torsion Spring Adjustment
Remote Opener Clicker Replacement