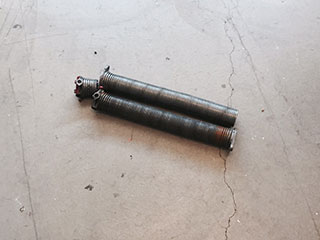 Nobody likes to have this happen to them, but garage door springs have no option but to break once they reach a certain point. Of course, good quality springs will take years to get to that state, but get to it they shall eventually. However, with fast emergency broken spring replacement, White Plains garage door owners don't have to worry when trouble strikes. Our same-day solution services give customers respite from such concerns. When your garage door spring breaks, you can get a new one installed and tested that same day!
Extension and Torsion Spring Repairs For White Plains Garage Doors
The two main types of garage door springs require slightly different approaches. Torsion springs being stronger and bigger, can withstand a lot more wear than their counterparts. Extension springs on garage doors come in pairs, so you'll see one on each side. They also work differently, aligned with the backroom of the space as opposed to the headroom. If only one extension spring broke on the garage door, you'll have to get the other one replaced as well. They went through the same amount of wear and tear after all, so the second one will surely follow suit soon as well. It's a good idea not to wait for it to break, but to preemptively replace it to save yourself the trouble.
Fix My Broken Garage Door Spring – Please!
You got it! We know how annoying it can feel when suddenly a spring breaks on your garage door. You might be hurrying to get to work, or just came in after a long shift. Whatever the case, you do not need to worry. With local White Plains garage door repairmen for springs near your area already, you have nothing to do but sit back and relax. After you give us a call, that is. Garage Door Repair White Plains offers its same day services to all the nearby areas, and at the lowest prices too. So whenever you need a broken spring replaced, get in touch with us to have it done that same day!