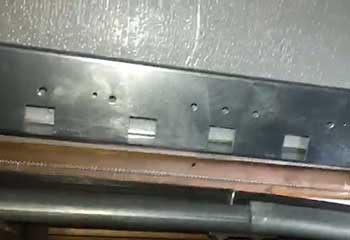 Track Replacement
Customer Issue: Ms. Fields had noticed that her garage door seemed to be moving more slowly lately, and wanted it examined.
Our Solution: After testing the door's movement for ourselves, our technicians found that the problem had occurred due to a track breaking down from rust. We released the tension to disconnect the springs and cable to move the door out of the way. This allowed our professionals to unbolt the damaged track, and install the new one in its place. Once the door had been returned, we checked the movement.
Joyce Fields
- Briarcliff Manor
Garage Door Replacement
Customer Issue: Mrs. Vasquez had been working to lessen the energy loss in her home, and felt her old garage doors may not be insulating properly.
Our Solution: Sears Carriage House style garage doors seemed like the best choice to our professionals, both for the option to have insulation installed, and their unique look that nicely complemented Mrs. Vasquez's home. We removed the original doors, once the tension had been released, to disconnect the cables and springs. Our technicians then slipped the Sears doors onto the tracks and connected them to the system.
Christy Vasquez
- Briarcliff Manor