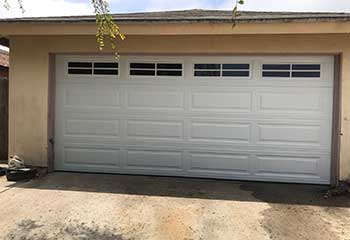 Opener Repair
Customer Issue: The customer's automatic garage door opener was making loud noises during operation, and the door had begun opening much more haltingly.
Our Solution: Since the sounds were coming from inside the opener box, our technicians knew they'd have to look inside. A motor gear was loose, probably a factory defect, and grinding against one of its neighbors. The team replaced both the loose and damaged gear, and the garage door opener was back to normal.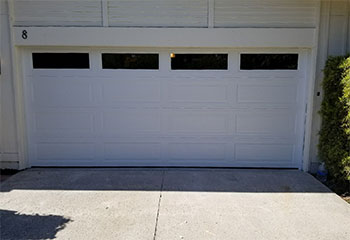 New Garage Door Installation
Customer Issue: A customer's low-cost vinyl and Styrofoam-insulated door was smashed by vandals. He decided to replace it with something sturdier.
Our Solution: Mr. Humble's opener was strong enough to lift heavier materials, so our team replaced the old door with a new one from Clopay's CLASSIC™ collection, installing new tracks, rollers and springs as well. The new garage door was made of insulated steel and was far stronger, and also nicer to look at thanks to the Ultra-Grain® Classic Cherry Finish.
Chris Humble
- Greenville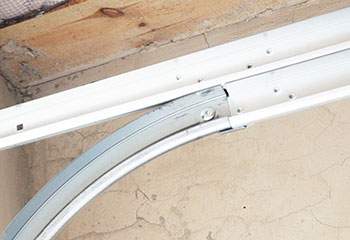 Track Replacement
Customer Issue: The left vertical track was hit by a car.
Our Solution: While reversing into their garage, the customer's daughter accidentally hit one of the tracks. This caused damage that prevented the door from closing all the way down, which was a major security risk. The customer called us hoping for emergency repairs, which we were happy to provide. We removed the bent track and installed a new one of matching dimensions. Then we fastened all of the screws that secured the other sections, and tested the door's movement several times to be certain that it could close and open with no further issues.
Howard Butcher
- Scarsdale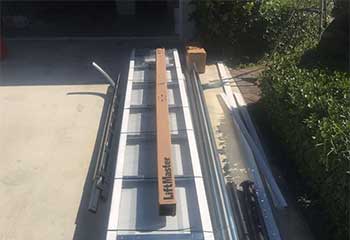 Panel Replacement
Customer Issue: Two of the panels had been damaged.
Our Solution: After examining the extent of the damage and determining that replacement would be required, we got in touch with the door's manufacturer in order to obtain two new sections that would match the design and color. Once we obtained them, we returned to the customer's home and installed the two new panels on his door, making sure not to compromise the unit's insulating capabilities.
Ross Howitzer
- Hartsdale
Torsion Spring Replacement
Customer Issue: The main spring broke.
Our Solution: Before removing what was left of the damaged spring, we first made sure the door's bottom panel and weather seal hadn't been damaged. We then fitted the torsion shaft with a new spring and adjusted its tension to perfectly suit the weight of the panels.
Owen Gustafson
- Scarsdale